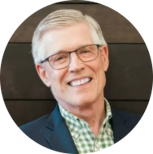 Referral Partner | Former Operating Principal | Creator
Tom has been involved in real estate for over 15 years and knows the industry inside and out. His passion for helping clients navigate the landscape of housing has cultivated a legacy of close relationships and remarkable business accomplishments. With experience as an agent, investor, entrepreneur, and business owner, Tom's real estate expertise is truly expansive. He is the founding owner of Keller Williams Realty Integrity Lakes in Uptown, Minneapolis, where Katey Bean & Co. is located. Additionally, he started Keller Williams office locations in Edina, Elk River, and Wayzata/Lake Minnetonka.
Tom began his career in retail gifts, where he first worked as a manufacturing representative, and later owned a manufacturing plant that he managed for 30 years. After initially attempting to retire, he decided to pursue real estate full time in his home state of Texas in 1999. Tom's diamond-level service soon gained him "Rookie of the Year" recognition, as well as a "Quality Service Award," two years running.
As an unwavering advocate of the Keller Williams vision, Tom continues to pride himself in work he thoroughly enjoys doing: helping clients "sell where they are now and find their perfect home." Tom's journey eventually brought him to Minneapolis, where, after operating four real estate offices, he joined his colleague, Katey Bean. Together he was able to get back to what he loves most about real estate—the people and the networking.
Outside of real estate, Tom can be found eating ribs at his (self-owned) barbeque restaurant in Eden Prairie, "Baker's Ribs." He invites you to stop by any time for a true taste of Texas here in Minnesota. Tom also enjoys participating in networking events across the country, doting upon his two dogs, Alice and Lady Jane and collecting art. He currently resides in Hopkins.