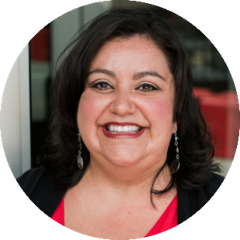 Director of Operations | Client Care | Catalyst
Laura serves as Director of Operations for Katey Bean & Company, an all-encompassing role of Client Care, Marketing Management & Transactions. She offers another unique perspective into the world of real estate. With a background in marketing as the Midwest Marketing Manager for Marketplace Home Mortgage, Laura developed relationships with over 225 agents. She simultaneously helped build multiple businesses at one of the top-performing Keller Williams offices in the nation and operated as point-person for big-picture marketing strategy. Through her cutting-edge technological expertise and business acumen, Laura mastered the art of telling stories in a busy world.
Additionally, Laura spent over 15 years in the hospitality industry, honing her ability to exceed client expectations and craft exceptional experiences. She soon decided to specialize her focus and join one of the Keller Williams agents she previously assisted: Katey Bean. Laura's passion for growth and leadership soon encouraged her to gain her real estate license, so that she could go above and beyond for Katey Bean & Co. clients.
While Laura now exercises her marketing ingenuity and transaction management behind the scenes at Katey Bean & Co, she remains at the forefront of the business, meeting clients and connecting with partners across the country. Her extraordinary data analysis, design, and event planning skills stand as a testament to her concurrent right and left brained mindset. Laura has truly designed the perfect platform upon which to accommodate people, get homes sold, and ensure a smooth experience from "Hello!" to the closing table.
An avid Green Bay fan, Laura bleeds Packers Green and Gold. When not helping clients at Katey Bean & Co, Laura can be found dominating her fantasy football leagues, enjoying all the bike trails the Twin Cities have to offer, and volunteering. Laura led the "Junior Teen Adoption Program" for 4 years at a local culture camp, and currently volunteers in the fields of Adoption, Mental Health & Race/Identity. She currently resides in Minnetonka.