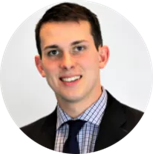 Team Agent | Influencer
Henry brings a background in economics and an energy for providing quality service to buyers and sellers. Henry grew up in a family of real estate agents and luxury home experts, and his interest in investments, properties, and helping people buy and sell only flourished from there and broaden the scope of services at Katey Bean & Company.

While earning his Bachelor of Science degree in Economics from the University of Minnesota, Henry worked in many different hospitality capacities, from restaurants to retail. A knack for numbers has driven Henry to combine his experience in mathematics and analytics with this passion for building personal connections. He brings an incomparable, advanced knowledge of the data involved in real estate transactions to every home. He also constantly aims to craft a superior home-buying or home-selling experience for each of his clients.

When not researching the current real estate market, Henry can be found golfing a quick nine, boating Lake Minnetonka, and collecting unique pairs of socks. He enjoys spending time with his two brothers, his dog Honey, and gearing up to cheer on his MN Vikings, as a true die-hard fan.